Rating with Ears
Feb 21
Films of 2014, #38: Thor: The Dark World (Taylor, 2013)
The sequel to Thor doesn't care about making a better movie, even though it does turn out to better. The Dark World brings us back to Thor's story with some improvement to Loki's character, but Thor himself is still a bland beefcake with nothing worth saying. How are we supposed to root on a dude who's so clearly unstoppable? Where's the suspense in that?
Sadly, Natilie Portman is also back (yawn) and she phones in another bland role that was just as bad as the first movie.  Stellan Skarsgard comes back as well, and he's even crazier than before. But this film isn't about the acting, it's about the action. And it fails there as well. There were plenty of action scenes, but I can't think of one that really had me at the edge of my seat. None of it mattered, even as Earth was (predictably) the center of the final battle (again).
Easily the strongest element of Thor: The Dark World was Thor's brother Loki. Tom Hiddleson gives his role even more camp and ends up the one to cheer for in the end. SPOILER The ending was one of the best parts, just to show us that there's more to come, and hopefully Loki will end up being the main focus of the next film since he's the only one that really matches Thor's power. Maybe we can just get a Loki movie next time and cut the crap?
Rating: 3 out of 10.
Feb 20
Films of 2014, #37: Adore (Fontaine, 2013)
It's a completely ridiculous plot that shouldn't exactly work. And it does work better than expected with some strong performances by Naomi Watts and Robin Wright. But these two women having sexual relationships with each others sons just doesn't work. Wright give it her all here, and she's the strongest thing in the movie. But Watts seems miscast next to Wright and the two sons don't do too much either. It's not the worst thing ever, but it's only as good as the story would let it be.
Rating: 4 out of 10.
Feb 19
Films of 2014, #36: The Lego Movie (Lord, Miller, 2014)
It's been long time since I'd seen a kids movie. They're the kind of films you know to avoid. Except for a handful of pictures here and there through the years, most kids movies go under my radar, ignored. But The Lego Movie is something else. With some stunning computer animation that brings these Legos to life while still making it obvious that they are nothing but plastic. The story is basic, but it's still great. The jokes keep going and going and ends up being one of the funniest movies I'e sen in a very long time. The Lego Movie takes it's jokes from other pop culture things like Batman, Star Wars and plenty of others.
This Lego universe that we are thrown into is run by President Business (Will Farrell), and our hero, the everyman (Chris Pratt), turns out to have the power to be a builder and could fulfill the prophecy to take down President Business. But the movie ends up being more than that with a perfect amount of random jokes that are somehow perfectly placed. And that's where the magic lies.
This film could have been a coldly constructed, commercialized, basic film that would have been forgotten. Instead, The Lego Movie has more life than most live action films, and while playing towards children's sensibilities, the adults are allowed to love and laugh as well. The ending makes everything even more important, and brings in just the right amount of seriousness and emotional pull without being bland or typical. 
Rating: 10 out of 10.
Feb 18
TV SHOWS: Walking Dead, Looking, True Detective
THE WALKING DEAD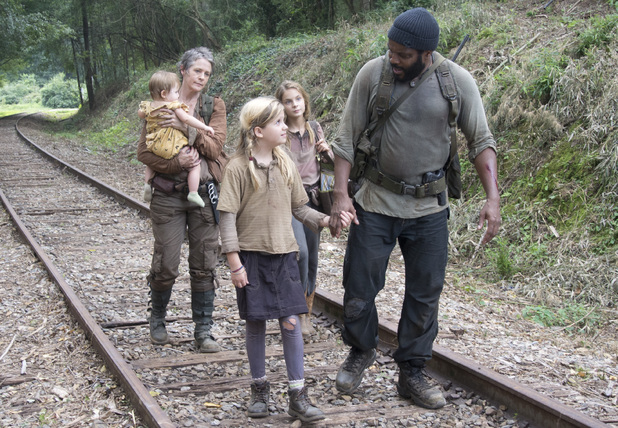 We find out what happens with everyone else after the prison was destroyed. Daryl doesn't put up with Beth. Tyrese has to put up with two kids and a baby. Glenn is still in the damn prison! And Carol is back! That's about it. There's really nothing too interesting going on here. Just an hour long catch up on all these characters (most I don't give two shits about). Let's hope some of these people die, because I don't want to spend any more time with some of these people. There's some new charters that show up at the very end, and it looks like the start of something promising.
LOOKING
I finally took the time to watch this show, and caught up on the last three episodes. There's a few interesting things going on, but only one or two characters worth it. I've never seen Girls, but I understand the comparison. But I wish the show would become something more. It's obviously not Queer as Folk, these are not men who are campy and wishing for just another one night stand. The latest episode was easily the best yet with the focus only on two characters. There were some moments of sexual frankness that took me by surprise, and some frank conversation about the gay experience that worked perfectly.
TRUE DETECTIVE
Should I even pretend that I understand what's going on at this point? Who's who and what's going on seems to be getting more complicated. The show was always able to set up a mood unlike anything else on television. But the plot is getting tangled and things are showing up that the audience didn't see coming. This isn't the kind of show that has big moments just to fuck with their audience, it seems like they're fucking with the characters as well. The creepy vibes grow and grow as our detectives undercover more stuff, but as they both said in later interviews, they were looking at the wrong clues. This haunting show gets even creepier after going through the internet and reading some of the theories…. I'm gonna have to rewatch the last few episodes before next week's because I feel like I've missed something… something that's right under my nose…
HOUSE OF CARDS
I plan on writing a full review of season two soon. I plowed through the entire thing in several days, and it's just as stunning as the first season. 
Films of 2014, #35: Gravity (Cuaron, 2013)
I thought that a film starring George Clooney and Sandra Bullock as astronauts wouldn't have worked, but the two of them give some good performances and it's highly possible that Bullock will win an Oscar for her work. Director Cuaron continues to change his style with some of the most hair-raising, suspenseful scenes of the year. Cauron is able to put the audience in the middle of the action and spends every minute of Gravity convincing us that space is a truly horrifying place. At only 90 minutes long, Gravity sucks you in from the start, and never lets up. Cuaron pushes cinematic rules with the use of 3D and stunning special effects that allowed for very long shots and went from point of view to reaction shots to massive action in one take. Themes are all over this film form the need for humanity to carry on, to the origins of human life. Gravity is one of those rare films that ends up extremely entertaining, moving and still shows cinema at it's greatest heights.
Rating: 9 out of 10.
Feb 14
Films of 2014, #34: Rush (Howard, 2013)
Ron Howard's newest film centers around the rivalry between two race car drivers, played by Chris Hemsworth and Daniel Bruhl. Rush doesn't waste any time getting things started with plenty of action and sex to start off. But the film falls into the blandness of many sports films with some inspirational, self-righteous crap that bubbles to the surface once a catastrophic event happens to one of the racers.
Rush could have been a very good movie. There's a good story, good acting by the two main stars and Howard gives one of his cleanest director work yet. But three fourths of the story was revealed in the trailer, leaving nothing much to be excited about in a film that relied on the audience's interest. Yes, the final moments are great, but nothing out the ordinary. If you've seen other riveting, inspirational sports films, then you've seen Rush.
Rating: 5 out of 10.
Feb 13
Films of 2014, #33: The Talented Mr. Ripley (Minghella, 1999)
I've never read the book this was based on, or the original film Purple Moon. But I still found plenty of things that stood out in this adaptation. Jude Law and Matt Damon are well cast here and both give good performances. The moments of violence were unexpected and they were well executed. Damon's role is creepy, but also able to relate to. At first that is. The Talented Mr. Ripley does go on for too long and drags during it's last third. And the ending was an odd way for things for close. There's some great scenery and it's a stunning film to look at sometimes.
Rating: 7 out of 10.
Feb 12
Films of 2014, #32: Mary and Max (Elliot, 2009)
Philip Seymour Hoffman and Toni Collette give their voice acting to this claymation film that ended up being a much darker film than I expected. Mary and Max isn't exactly something for the kids, as the film deals with themes of loneliness, depression, obesity and anxiety. The two main characters communicate only through letters that get exchanged for years and years. It's would be a good story anyways, but the use of claymation is stunning and the use of toned down colors like grey and brown fit the mood perfectly. It's a very moody, sad film but there's plenty of humorous moments too.
Rating: 8 out of 10.
Feb 11
TRUE DETECTIVE/THE WALKING DEAD
The film reviews will continue, but I felt like adding more stuff to this site. With The Walking Dead back on and True Detective starting to show itself as one of the most important dramas on right now, I felt the need to say a little about each one. There might be more of these in the coming weeks. And, of course, I'll be reviewing most the episodes of Mad Men once that starts back up in April.
THE WALKING DEAD: AFTER (4.09)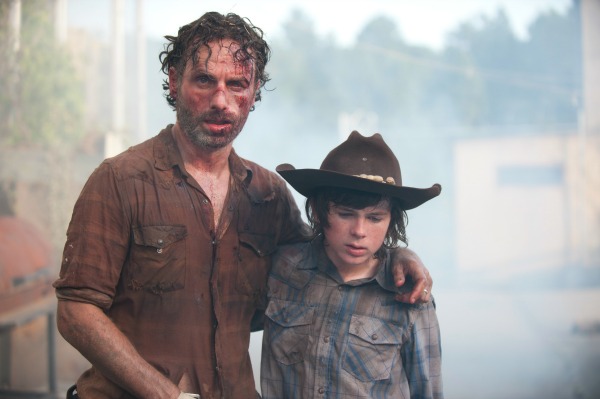 The Waking Dead has really surprised me this season with a change in direction that started to treat it's characters with slightly more respect instead of just having them droll over the same argument over and over (remember Hershel's barn? Jesus, how long could they argue?) Now, The Governor is dead, and the prison is gone. We see Carl and Rick trying to make it, and Carl ends up being a little bitch to his dad for the entire episode. UGH, the teenage angst! NO CARL. STOP BEING A LITTLE SHIT TO YOUR INJURED DAD! We also see Michonne trying to make it as she picks up two random walkers and makes them her dogs, just like when we first saw her. There's a decent flashback/dream sequence that gives us just enough backstory… BUT here's my problem: HOW THE FUCK did Michonne walk with a herd of zombies? Just because she has two close to her doesn't mean that she blends in! Back in season one Rick and his group had to cover themselves in zombie guts to cover up their smell. Do the walkers not smell anymore???
TRUE DETECTIVE: WHO GOES THERE (1.04)
This show will be the one that people remember from 2014. I'm sure that other shows will have their moments, but what True Detective got away with in the last ten minutes of this episode was tense, scary, and some of the most well crafted camera work in the history of television. True Detective is starting to form itself as a show that cannot be judged as just a television show, but a work of cinema. We know from the start that Rust has some darkness, and we wonder what's lead him to where he is during the flash forward interviews. The final ten minutes are the most violent on the show yet, and it has me thrilled for what's going to happen next. While the first three episodes spent the time to build the relationship between Rust and Marty, here we see the two of them in action and how they see past their differences to help each other. Just like a great novel, this episode seems like the beginning of the second act.
Films of 2014, #31: Twixt (Coppola, 2011)
Francis Ford Coppola has shown that he knows how to direct horror with Bram Stoker's Dracula, but Twixt doesn't have any of the magic that made Dracula such a great movie. Val Kilmer stars as a writer who starts investigating an old murder in a small town. Bruce Dern is the sheriff of the town, and he's the only decent part of the entire movie. The movie becomes a mess quickly, and it's instantly laughable because of Kilmer's acting. It's a clumsy script and Coppola's direction is horrible.
How did the same man that directed The Godfather trilogy and Apocalypse Now end up assembling such a downright bad movie? Just a few years earlier, Coppola put out a great film called Tetro that was remarkably personal and contained some of the best cinematography in recent years. Twixt is easily Coppola's worst. While I wasn't expecting anything good from this film, I wasn't expecting something this bad either.
Rating: 1 out of 10.